About Us
We are an experienced group of internet sellers. All of our items are directly purchased by various reputable manufacturers throughout the world. They have passed strict quality assurance procedures such as CE, UL, and ISO9001/9002 certifications.
We provide products of great value for our customers and aim to develop a large client base. Please feel free to have a look around and contact us if you have any questions.
Our areas of product expertise include Camcorder Batteries, Laptop AC Adapters, Digital Camera Batteries, Power Supplies, pda batteires, mobile phone batteries and growing.
Our products fit with over 50,000 models of PDAs, Adapters, Digital Cameras from leading brands including Sony, Dell, IBM, Toshiba, Canon, Palm, Apple, Compaq, HP, and many others.
All manufacturer brand names, logos and trademarks (such as Apple, Compaq, Dell, Gateway, HP, IBM, Motorola, Nokia, Panasonic, Samsung, Sony, etc) are theproperty of their respective holders and while we make reference to brand name merchandise we are in no way endorsed by or associated with these companies. Any use of a brand name or model designation for a non-OEM product is made solely for purposes of demonstrating compatibility.
Our office time: 9:00 am - 5:00 pm Pacific Time.
Our contact information: sales@salesadapter.com or order@salesadapter.com
Payment and Shipping
Payment
We accept PayPal only. Credit Card payments through PayPal is accepted. PayPal payment system supports MasterCard, Visa, Discover, American Express and eCheck.

Our PayPal Account: payment@salesadapter.com(Verified)
Security Guarantee
Shopping with us is safe and secure. None of our customers have ever reported fraudulent use of their credit cards as a result of shopping with us. You can be assured that the information you give us is confidential. We do not sell, rent or share information of our customers with other parties.
Shipping Method, Policy
We ship to all over the world.
All orders will be shipped from our USA, UK, Canada, Europe, and HONG KONG international stores. The shipping ways have many optional: USPS, UPS, Royal Mail, Global Priority Mail, DHL, FEDEX, HONG KONG Post and more. If you want to use other shipping method, please feel free to Contact us Email :order@salesadapter.com
Nowadays the peak season is coming, not only our trading company but also the usps or other shipping company face their peak season, there may cause a bit delay in shipping.
When can I receive my items?
USA 5~10days
CA 5~18 days
UK 3~8 days ( Royalmail )
Ireland and EU 5~10days
AU 5~12 days
Other Countries < 20 days.
Overnight(Only for USA order)
Please note that orders placed on weekends and public holidays will be despatched on the next working day.
We are not responsible for wrong or undeliverable address. Please make sure your shipping address is correct and deliverable. The address can be your home, your place of business, your travelling aim place, or another residence address and all of the packages can be tracked.
Should postal address be provided with incorrect or inadequate information resulting in non-delivery, customers will be charged the additional postal charges so incurred.
Note: If possible, be suer the delivery address is the same as the billing address!
We are sorry to tell you that local pickup is not available on our website.
Order Cancellation

If you need to cancel an order for any reason, Email to us for assistance. If your order has not shipped out we will be able to cancel it for you. If an order has already shipped we will accept a return under the terms of our Return Policy.
Postage Rates

Our postage rates include the expense of shipping, handling and high quality packaging, which are charged based on shipment weight, delivery destination and retail value of order. You can place your order easily, our shopping cart will display the shipping fee automaticly.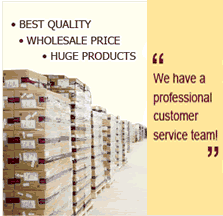 How is my total delivery time determined?
The total delivery time for your order is calculated from the time your order is placed until the time you receive it. The diagram below shows how the Total Delivery Time is broken down into pre-ship processing time and shipping time.

Shipping time is measured from when your order leaves the warehouse to when it arrives at your home or office.
After you pay the order, the billing address maybe different with the order address, please note that we only send the parcel to the order address.
Return
We warrant that the products sold in our website are 100% brand new and free from defects in material and workmanship - We never sell used or refurbished adapters.
Unless otherwise specified, we warrant our products for 1 year from the date of original purchase under normal, non-commercial use. Replacement items, if issued, do not restart or in any way extend the warranty period.
A replacement or refund will be arranged for all defective products returned, subject to verification of defect.
If a product is returned to us after it has been in use for over 6 months, we may, at our discretion, exercise an option to refund a portion of the purchase price proportional to the remainder of the warranty period.
If there is nothing wrong with the item and the buyer wants a refund, the seller will issue full refund less actual shipping cost, which is usually around $10.00. The buyer will also be responsible for the cost of sending the item back.
I. Rules & Policies:
We accepts returns on merchandise from select manufacturers within 30 days from the purchase date. Original shipping charges are not refunded on returned items unless there was an error on our part. Customers are responsible for all shipping charges back to www.salesadapter.com on returned items unless there was an incorrect item(s) shipped by www.salesadapter.com. (Please note that we only offer refunds within 30 days from the date that you receive your order. Returns received outside of the 30 day return period will be processed as an exchange.)
Returns within 30 days from purchase date can be for exchange, refund or credit at www.salesadapter.com's discretion. Please be aware that specific manufacturers have more restrictive return policies. All returned merchandise must be in complete original manufacturer's packaging, same condition as sold, with all accessories, literature, instructions and documentation.
It is the responsibility of the customer to pay for the return freight, and to take reasonable care to protect against damages in freight, if you want to return the product for any reason. We strongly recommends you fully insure your return shipment in case it is lost or damaged and you use a carrier that can provide you with proof of delivery for your protection. If merchandise arrives damaged: save the merchandise AND the original box and packing it arrived in, notify www.salesadapter.com immediately to arrange for a carrier inspection and a pick up of damaged merchandise.
DEFECTIVE returns can be returned directly to www.salesadapter.com within 30 days from the invoice date, at www.salesadapter.com's discretion for: credit, replacement, exchange or repair.
NON-DEFECTIVE returns can be accepted directly by www.salesadapter.com within 30 days from the invoice date, at www.salesadapter.com's discretion for: credit, exchange. All NON-DEFECTIVE returns are subject to a 15 percent restocking fee. Shipping and handling fees are absolutely non-refundable.
II. Return Refunds and Credits
If you want to return the item for a refund, you can contact our customer services department at sales@salesadapter.com obtain a Return Merchandise Authorization (RMA) number within fifteen (15) days of purchase. Return within thirty (30) days from purchase can be for exchange, credit or refund at our discretion.
Refunds on returned items which were paid for by credit card or PayPal will only be made by crediting the account charged for the purchase. Refunds on returned items which were paid for by check will only be made by check after a 10-day waiting period.
It takes up to 30 business days to process the return and credit your account.
III.How to return an item
To return an item you must contact Customer Service at sales@salesadapter.com for prior approval and obtain an RMA (Return Merchandise Authorization) number.
Repack in original packaging: Enclosed everything originally received, including all manuals and related materials. Place the packaged product in a protective outer box. We must receive all original products in order to process your return or exchange. We are not responsible for products that are damaged due to poor packaging, defaced packaging, or lost shipments. Products must be returned 100% complete, including all components, original boxes and packing materials, manuals, blank warranty cards, and other accessories provided by the manufacturer.
Shipped within thirty (30) days: Products must be returned within thirty (30) days after the issuance of the RMA. Packages received after the 30th day will not be accepted and will be returned to the customer.
Include RMA on the outside of the package: It should be clearly displayed on the return-shipping label of the package. Packages without a RMA will not be accepted.