SONY DCR-PC10 Charger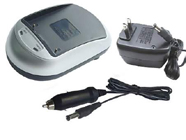 LARGER IMAGE
100% brand new
1 year warranty
SONY DCR-PC10 Charger, DCR-PC10 Battery Charger
Item no: CSN001SU-61835-887
IN STOCK:
Usually ships in 1 business days after your order is placed.
More about shipping
.
Contact us
Note:
We ship to all over the world.
Super-Long Standy Time Guaranteed! 1 year warranty, 30 Days Money Back!
Package includes High Performance Turbo Charger, AC Power Adapter and 12.00V Car Cord
Turbo Charger must be used with our AC Adapter or our Car Cord
Designed to charge batteries quickly and safely
Convenient LEDs indicate the charging status
100-240V(Input), 12V(Output)
Length: 106.50x69.00x37.00mm
Browse:
Product Rating

(5 Ratings)
Location: USA
Related Categories
Recently Sold

SONY DCR-PC10 Battery Charger can charge your camcorder / digital camera battery, the SONY DCR-PC10 Charger is designed to be 100% manufacturer compatible with SONY OEM part numbers and use in SONY models.
1. 100% original manufacturer compatible
2. Guaranteed to meet or exceed original specifications
3. Over-discharge protection
4. 15 days money back, 1 year warranty
7. Weight: 785g
SONY DCR-PC10 Charger Feature:
Replacement Part No.#:
Compatible Below Models:
Instruction Manual for your SONY DCR-PC10 Battery Charger
:
Plug the AC power adapter in a wall outlet.
Connect the AC power adapter supplied with your charger to the DC in jack.
"STATUS" indicator shows RED when the charger is ready and "charger" indicator shows flashing GREEN when waiting for battery pack.
Slide battery pack in the Charger and "CHARGER" indicator goes RED when charging.
"CHARGE" indicator shows RED and GREEN alternatively when battery pack has more than 90% charged.
When the battery pack is fully charged, the "CHARGE" indicator shows a steady green.
After the battery pack fully charged, slide the battery pack out.
Unplug DC power, "CHARGE" and "STATUS"indicators go out.
A: How to change the charger plate
Part I: Release the charger plate
Step 1:
Press the buttons, located on the bottom of the charger.
Step 2:
Charger plate release from the base
Step 3:
Took out the plate
Part II: Install the new charger plate
Step I:
Ready a new charger plate.
Step 2:
Install the front into the charger base and press the end down to the base.
Step 3:
Complete the installation.
B: Charging method
Our Battery Charger have two charging method: AC Adapter and Car Cord. They allow you to charge your battery at home or in the car conveniently.
Method 1:
Power by AC Power Adapter
Method 2:
Power by Car Cord
C: Check the charging status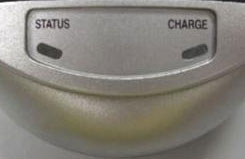 The LED indicator will show for you the charging status.
ADDITIONAL SAFETY INSTRUCTIONS FOR YOUR SONY DCR-PC10 Charger:
If the charger supply cord is damaged have it replaced by a qualified person.
Do not charge a leaking battery.
Do not use machines, attachments and chargers for works other than those for which they are designed.
Only connect the charging device to an AC supply.
Only charge batteries with the appropriate charging device - as specified in these instructions.
The charger must be protected from moisture.
Do not use the charger outside.
Do not short out the contacts of charger.
Respect the polarity "+/-" when charging.
When charging batteries, ensure that the battery charger is in a well-ventilated area and away from flammable materials. Batteries can get hot during charging. Do not overcharge any batteries. Ensure that batteries and chargers are not left unsupervised during charging.
Other information:
The products supplied by our Company are [replacement for] sold for use with certain products of computer manufacturers, and any reference to products or trademarks of such companies is purely for the purpose of identifying the computers with which our products are [replacement for] may be used. Our Company and this Web site are neither affiliated with, authorized by, licensed by, distributors for, nor related in any way to these computer manufacturers, nor are the products offered for sale through our web site manufactured by or sold with the authorization of the manufacturers of the computers with which our products [are replacement for] may be used.